Staff Picks "Supermoist. - 極度滋潤"
Regular price
HK$1,360.00
Regular price
HK$1,430.00
Sale price
HK$1,360.00
Unit price
per
DETAILS 產品詳情
Staff Picks 3 Eminence products targeting dehydrated skin! Both of the masks are Eminence's Best Sellers for dry skin, apply masque once to twice a week and serum twice a day  👍
1. Stone Crop Masque 60ml 
Our best selling masque with healing and calming effect, suitable for all skin types, including sensitive skin and pigmentation. Highest votes for "My Favorite Masque!" Stone crop can increase skin moisture, making skin radiant and younger. Sensitive skin gets its relief; oily and dry skin is balanced; and pigmentation is reduced. Stone crop is a plant that have been used as a herbal medicine for centuries to cure skin problems. Now you can experience its wonderful effects as well.
2. Strawberry Rhubarb Masque 60ml  
Juicy strawberries plump and moisturize the skin, combined with effective soothing rhubarb and the restoring hyaluronic acid, the skin regain its youth. When these ingredients moisturize and deeply penetrate the skin, its moisture level is effectively restored. While the salicylic acid gently exfoliates the face and cheeks ensure a refreshing complexion.
3. Strawberry Rhubarb Hyaluronic Serum 30ml 
Tightening pores and moisturizing your skin with this serum. Strawberry and rhubarb combine to exfoliate and deliver an astringent effect. Adding hyaluronic acid, it can effectively store skin's moisture, and improve the overall health of your skin. Plant-derived ingredients such as hyaluronic acid and vitamin-rich strawberries and rhubarb, giving your skin a youthful fountain. Full of the hydrating and repair properties, this regenerating serum helps restore skin's youthful glow.
Staff Picks 為您揀選3件針對缺水皮膚的產品。以下兩款面膜都是Eminence的皇牌面膜,可以交替敷,每星期最少敷一至兩次面膜,極度乾旱嘅朋友如有需要可每日敷;精華素早晚使用 👍
1. Stone Crop Masque 垂盆草補濕面膜 60ml 
具治療和鎮靜功效的面膜,適合任何皮膚,包括敏感和色斑皮膚。票數最高的「我最喜歡的面膜」!垂盆草是擅長提升皮膚的水分,使肌膚容光煥發和更年輕。敏感皮膚得到舒緩;油性和乾性皮膚亦得以平衡;及色斑也減少。垂盆草是草藥師數百年來用作治愈的皮膚問題的植物。現在,您也可以體驗它的奇妙功效。
2. Strawberry Rhubarb Masque 草莓大黃透明質酸補濕面膜 60ml 
多汁的草莓豐盈和滋潤皮膚,結合有效舒緩的大黃和具修復性的透明質酸,使肌膚重拾年輕。當這些成分滋潤和滲透皮膚的最深層,肌膚的水分得以恢復。而水楊酸溫和地去除角質,確保一個煥然一新的面貌和甜美的臉頰。
3. Strawberry Rhubarb Hyaluronic Serum 草莓大黃透明質酸補濕精華素 30ml 
具收細毛孔和滋潤肌膚功效的精華素。草莓和大黃的結合,能去除角質,同時有收斂作用。加入了透明質酸,有效保持肌膚水分,改善皮膚的整體健康。源自植物成分的透明質酸和豐富維他命的草莓與大黃,給您的肌膚一個不老泉源。滿載補濕和修復的好處,這個再生精華素有助肌膚回復青春煥發。
100% Guarantee 原裝行貨保證
Ingredients 詳細成分

Click on each individual product for detailed ingredients
點擊組合內的每件產品查看詳細成分

* Organic ingredients 有機成分
How to use 使用方法

1. Stone Crop Masque 垂盆草補濕面膜 60ml
2. Strawberry Rhubarb Masque 草莓大黃透明質酸補濕面膜 60ml

Always make sure your face is clean before applying mask. Use the spoon that comes with the product to take 1 scoop of mask and dilute with a few drops of water or Eminence booster-serum. Apply mask evenly on your entire face and neck. Leave on for 15 minutes and then rinse off thoroughly with warm water. Recommend using at least once a week. Tips: Only booster-serums can be mixed in with the mask, serums cannot.
每次敷面膜前都要徹底潔淨肌膚。用包裝盒內的勺取1勺的面膜,加幾滳水或Eminence的速效精華作稀釋。均勻地塗在面及頸上,敷15分鐘,然後用溫水徹底沖洗乾淨。建議每星期最少敷一次面膜。Tips: 只是速效精華可以混入面膜敷,精華素是不可以的。

3. Strawberry Rhubarb Hyaluronic Serum 草莓大黃透明質酸補濕精華素 30ml

Apply 3-4 drops on your entire face and neck, or 1-2 drops only on affected areas before applying moisturizer. Recommend using 2-5 times a day on problem areas.
於塗上面霜前,在臉上塗上3-4滴精華素,或只在問題位置塗上1-2滴。建議在問題位置每天使用2-5次。
Delivery Info 送貨安排

● WhatsApp落單: $400以上

本地免運費

● 網上落單: 本地郵寄/順豐站自取滿$800免運費
● 訂單會於1-2個工作天內寄出

收件地址類別
物流
運費
運送時間

商業地址

順豐速運
HKD$35

1-2 工作天

住宅地址

順豐站自取

1

1 查看所有順豐點自取地址 

* Please see Delivery Method for English and International Delivery
Return Policy 14天退換政策

14天退貨及換貨保證:
我們的首要任務是能滿足到顧客的需要!如果您未完全滿意今次的購物,您可根據以下的條款退款或更換貨品。
● 在收據日期的14天內,寄回收據正本和貨品作退款或更換。
● 全數退款只限未開封貨品。已開封或使用過的貨品可獲50%退款,而該退回貨品必須尚餘最少75%的產品。
● 任何退回貨品只限更換同等價值或價值較高之貨品。顧客須支付價值較高之貨品的差額。如更換價值較低之貨品,所有餘額將不獲退回。
● 請以電郵(service.alohabeautyshop@gmail.com)或WhatsApp(6825 6235)與我們聯絡有關退款或換貨。

* Please see Return Policy for English and more details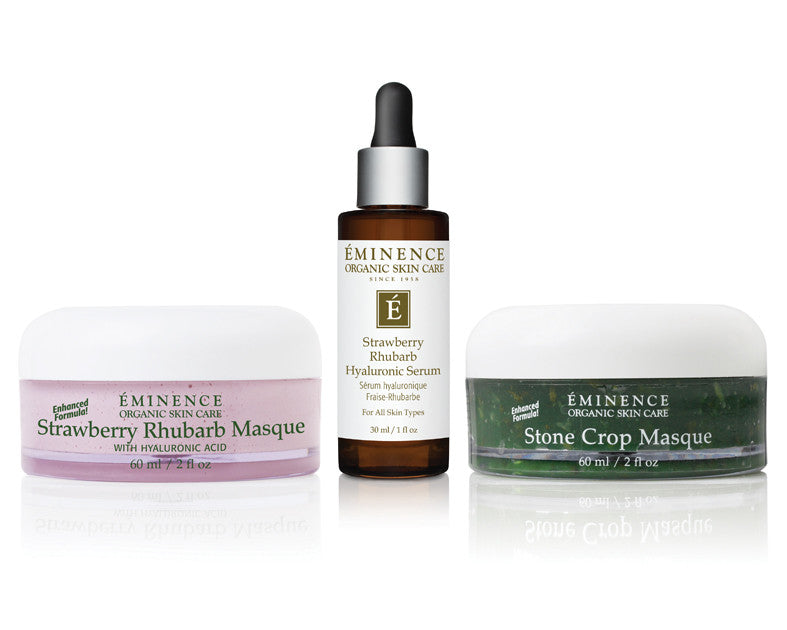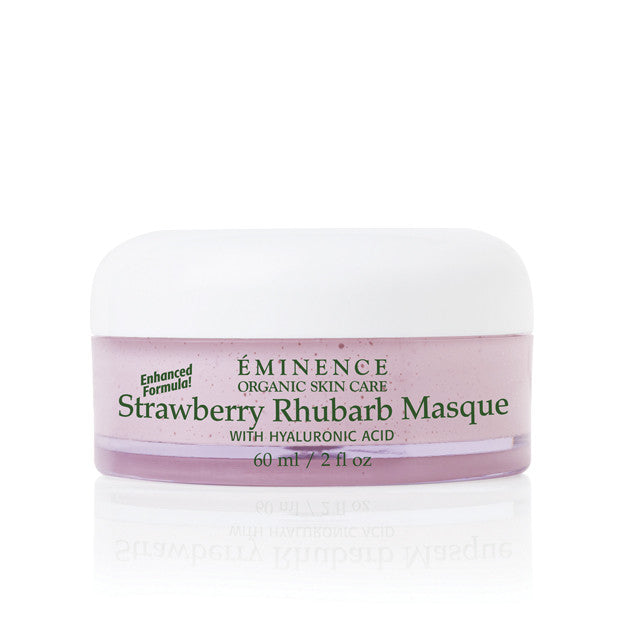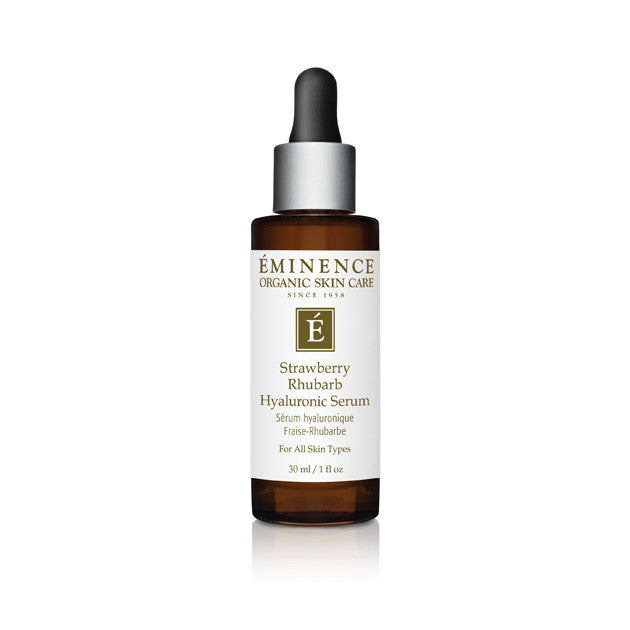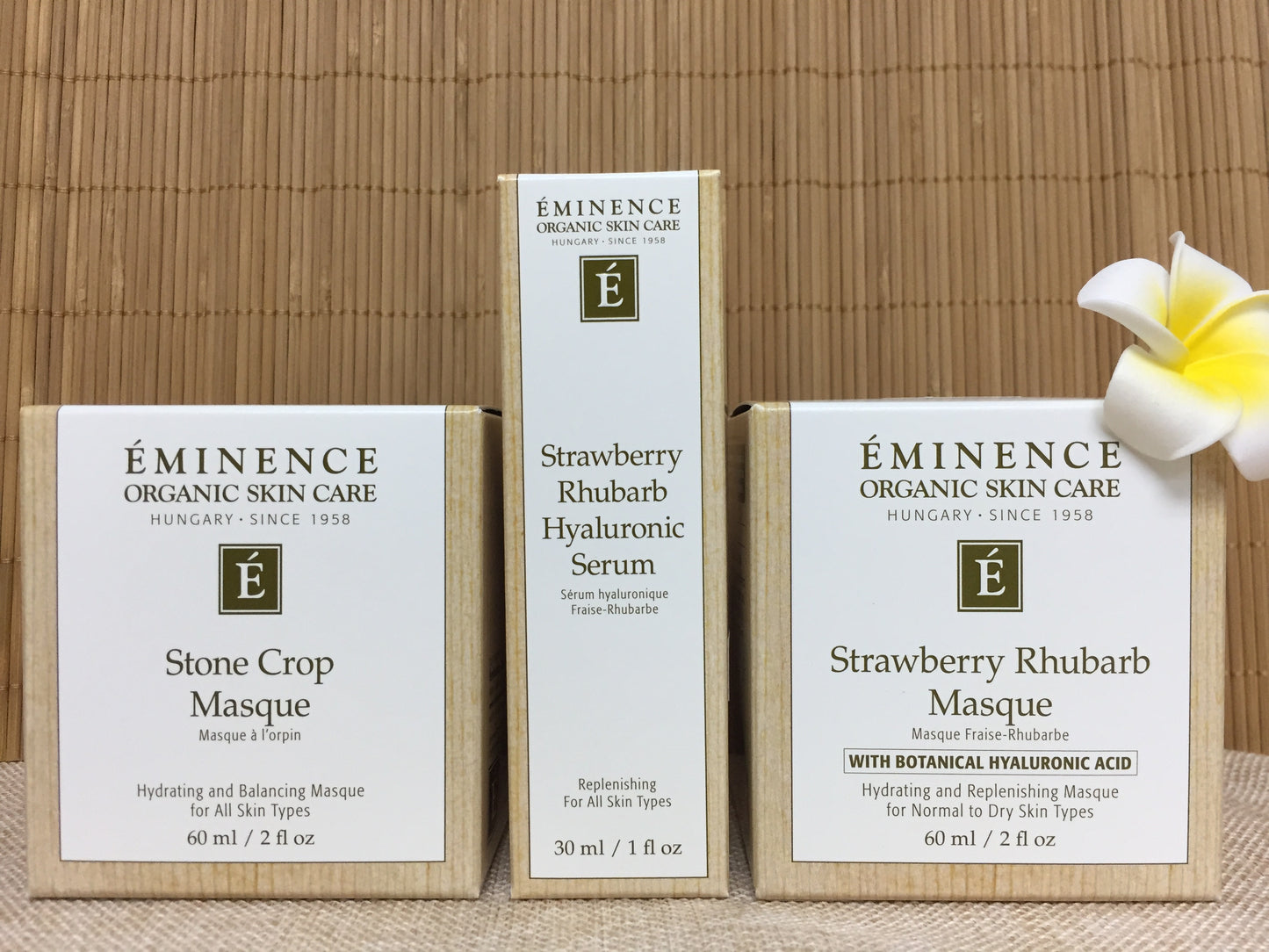 Guaranteed Authentic 原裝行貨保證
We are so glad you found us! Aloha Beauty Shop is proud to be Authorized Eminence Hong Kong Online Shop. We strive to provide the best quality organic skincare in town, all our products are imported by Eminence's authorized distributor in Hong Kong. Clear company labelings and expiry date can be found on each product to ensure the freshness and quality of the products. 
Shopping at Aloha Beauty Shop, you not only get the promise of product quality, our dedicated team is here to provide extraordinary pre- and post-sales customer support. Our professional, reliable and highly responsive customer service team has earned many of our customers' trusts! 
We would also like to take this opportunity to educate our customers the difference between Genuine Products and Authentic Products. Genuine products simply mean that the products are not fake products, however, that does not indicate that the products are imported through authorized channels, meaning they are unauthorized products. Please read the below authenticity statement written by Eminence Organic Skincare to learn about the risk of purchasing from unauthorized retailers.
"By purchasing from unauthorized retailers you may put yourself at risk of the following:
Purchasing imitation, expired, or damaged products
Not receiving the products you purchased
Receiving products that cannot be returned
Paying more for your products due to shipping fees, custom duties, and other taxes
Receiving poor advice on the proper use of the product you've purchased.  Many of our products are intended for professional use only and should be used only by a trained esthetician.
Purchasing products that are not suitable for your skin type"
很高興您能找到我們!Aloha Beauty Shop以成為認可Eminence(源美肌)香港網上專門店感自豪。我們致力提供最優質的有機護膚品,店內所有貨品皆由認可代理商進口到香港。每件產品上都貼有代理商貼紙和有效日期,保證產品新鮮和優質。
在Aloha Beauty Shop購物,您不但得到產品質素的承諾,我們盡心的團隊亦隨時為您提供優越的售前及售後客戶支援服務。我們專業、可靠和高效率的客戶服務團隊已獲取很多顧客的信任!
我們亦希望在這個機會講解一下「正貨」與「行貨」的分別。常見的「正貨」標籤只表示產品不是假冒,但不代表這些產品是經認可途徑進口,所以產品可能是俗稱的「水貨」。Eminence Organic Skincare在網站寫的行貨聲明解釋了購買非行貨產品存在的風險:
" 經非認可商店購買產品您可能面對以下風險:
買到假冒、過期或損壞的產品
不能收到您購買的產品
不能退回您購買的產品
因運費、關費或其他稅收令您要付更多金錢
得到錯誤的產品推介及使用說明。我們很多產品都是設計給美容院使用和只讓經訓練的美容師使用。
購買了不適合您皮膚性質的產品 "
*** 部份產品實物圖可以在產品頁面看到 ***